Forever 21 Is Closing Its Doors In Japan—For Good
Nothing lasts forever
By
The Savvy Team
October 17, 2019
Fashion
,
Shopping
If you ever needed an excuse to go all-out on shopping, this is it: Forever 21 stores in Japan will soon be no more!
Forever 21, one of the trendiest American fast-fashion brands will be closing its doors on all 14 stores across Japan on Oct. 31. It's almost painful for us to type this as the fashion brand was a #realone that always came through for us.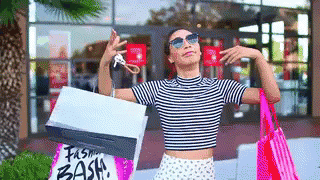 There's a themed party coming up but you don't have a single thing in your closet of that color—Forever 21. You're in dire need of a pair of classic gold hoops to match a sleek black outfit for a business meeting—Forever 21. You just moved to Japan and discovered, painfully, that your feet are way too big for any of the shoes at your local shoe store—Forever 21.
Everything storewide is up to 70 percent off ladies, so grab your wallet and take this list of our go-to items to buy before the mega fashion brand leaves Japan forever.
---
Glam Accessories
---
Huge hoop earrings will always be a staple for fierce ladies and baddies putting in work. As they say, the bigger the hoop, the bigger the… brain. That's how the saying goes, right?
Chunky belts, iconic Jackie O sunglasses, and charm necklaces are staples for every closet that Forever 21 sells on the cheap. Perfect for when you have an unexpected Bumble date to a fancy restaurant and need a posh clutch to keep your valuables in. 
Be sure to snag one of the seasonal scarves that are almost guaranteed to be flying off the shelves right now. And more layers doesn't mean less sexy; leopard print anything ferociously screams fierce.
Savvy's Recommended Pick: The classic gold hoops, of course! You can often get them in a variety set so you get a number of different sizes.
---
The Most Random Graphic Tees
---
You totally need a casual T-shirt with everyone's favorite horror classic, Jaws. Or one with the faces of all five guardians from the Sailor Moon series, complete with the caption, "beautiful girl warriors." From the obscure to the ones that make us go, but why though, Forever 21's graphic tee game is strong. 
We absolutely love this cropped sweatshirt that takes us back to our childhood when VHS rental shops were all the rage. Blockbuster, America's favorite video store, you'll forever live on in our memories via this sweatshirt.
Savvy's Recommended Pick: A pullover hoodie with a graphic that gives you all the nostalgic feels.
---
Crops Tops Galore
---
We know it's getting colder now, but if you're a festival-goer, we bet you're already planning out your schedule for Summer Sonic or Fuji Rock next year. Barely-there crop tops are the epitome of festival wear and no one does it better than Forever 21.
Everyone knows how trendy crop tops are, but the brand takes it to the next level. Frilly and puffy "sleeves" that don't cover the shoulders and crop "tops" that barely fit the name because it's quite literally just a small, thin piece of fabric. That's the beauty of what Forever 21 stands for though—cheap, funky clothes that spice up our lives.
Remember that cropped sweatshirt we mentioned earlier? There's a whole section of them. They won't keep you warm during the winter, but style-wise they'll make you look nothing short of a total bosslady.
Savvy's Recommended Pick: A bright-colored crop top so you'll be easy to find in a sea of people at your next music festa!
---
Everything Denim
---
For real though, Forever 21 has a denim version of almost everything from actual jeans to rompers to backpacks.
Ripped up shorts give us all the summer feels, while stonewashed denim jeans will always be in season. We're especially fans of the oh-so-comfy "boyfriend jeans" with their relaxed fit. Throw on a denim button-up jacket for a 90s throwback look or rock some distressed thigh-high denim boots because you are one hundred percent that… boss.
Savvy's Recommended Pick: Distressed boyfriend jeans are a grungy yet sexy twist on a classic pair of denim pants—a staple for your closet.
---
Shoes (That Fit)
---
Any foreign woman in Japan knows #thestruggleisreal when it comes to finding shoes that fit us. Once again, Forever 21 has got our backs. Strappy sandals, platform boots, and stilettos galore.
Give us all the leopard-print heels for a splash of sass during girls' night, or just some chill flats to wear on a date to the park. And you definitely don't want to miss the incredible selection of faux suede boots and booties for the upcoming autumn season!
Savvy's Recommended Pick: Booties, booties, and more (suede) booties!
---
Just Plain #Relatable Items
---
Motivated by cats and coffee. Not only is this totally true, it's one of the fashion brand's many #relatable items. An oversized sweatshirt that says "Single AF" is more like it for us, though. You're bound to find something that was made for you because you'll read it and immediately think, "now that's what I'm saying!"
Don't forget those convenient vinyl makeup pouches sparkling at you from in front of the check out counter. Remind everyone that "I may not be perfect, but my makeup is," and above all else, "I came, I saw, I contoured."
Get it, girl.
Savvy's Recommended Pick: Whatever speaks to your soul.
All photos were compiled from the official US Forever 21 website. Items in photos may not be eligible for purchase in Japan.
---
Have you done any last-minute shopping at Forever 21? Share with us your favorite fast-fashion outfits via Instagram using the hashtag #savvyoutfitoftheday
---
---
---
Other Articles by The Savvy Team