©Photo by iStock: Erin Donalson
Thanksgiving In Tokyo: 8 Spots To Gobble Down The Holiday
Spend A Special Thanksgiving In The Heart Of Tokyo
By
The Savvy Team
November 10, 2022
Food & Drink
,
Seasonal Trends
This season, give thanks to friends and family by ditching the oven and celebrating out in the city! 
It's only two weeks until Thanksgiving (if you're celebrating the American way). While the holiday isn't as popular in Japan as Halloween or Christmas, over the past few years, we've witnessed several eateries setting up special plans for guests who wish to celebrate the event. If you're not roasting a turkey yourself this year, here's a list of places in Tokyo that offer authentic Thanksgiving classics, almost on par with what you'd have back home.
With its stunning view of Tokyo Bay and chic ambiance, this restaurant's Thanksgiving menu gets a few extra brownie points among foreign residents. The full-course menu features a creamy celeriac soup, roasted turkey with mushroom gravy as a main course, and a classic pumpkin tart topped with whipped cream and vanilla ice cream for dessert. Enjoy the exquisite food as the city lights reflect in the harbor.
Spend your intimate Thanksgiving celebration at one of the chicest restaurants in Daikanyama. The Ivy Place Thanksgiving menu starts with a bowl of chestnut puree soup followed by smoked salmon with quinoa salad. For the main course, there's roasted turkey leg and poached turkey breast with cornbread stuffing with pumpkin butterscotch pudding for dessert. After your meal take a stroll through Daikanyama T-Site, a stylish bookstore complex with a vintage book section.
Smokehouse by T.Y. Harbor might be the better choice for a more casual Thanksgiving dinner. This year's Thanksgiving menu lineup includes a smoked creamed potato and cauliflower soup with a barbecue turkey breast plate with bacon mac-n-cheese on the side. Dessert is a pumpkin pecan pie.
One of our favorite steakhouses in Tokyo will turn its grill into a turkey roastery for the holiday, offering a special two-day exclusive lunch and dinner menu. The lunch menu is a light course including chopped vegetable salad, roasted turkey and roast beef with gravy sauce and cranberry relish, and a pecan nut pecan pie with pumpkin ice cream and coffee or tea for dessert. The dinner menu adds a few extras, including appetizers and soup.
If you're after a real family-style Thanksgiving dinner, Soulfood House is the place to be. People who've been there will all unanimously agree that the family warmth, the amazingly delicious food, and the never-ending fun at this place makes it a Thanksgiving-kind of day, every day. This year, the dinner menu includes a pumpkin soup and an apple nuts salad, honey roasted turkey with gravy and cranberry sauce, a choice of spare rib or beef rib (a tough one!), garlic mashed potatoes, green bean casserole, macaroni and cheese, and a house dessert.
Have an elegant Thanksgiving dinner at The Oak Door by Grand Hyatt Tokyo. Starters include Autumn salad with chestnut soup. For the main course, there's roast turkey, whipped potatoes, pork sausage stuffing, gravy and a side of brussels sprouts and bacon, sweet potatoes. Sides include green beans and creamed mushrooms, sauteed spinach and macaroni and cheese. The dessert is The Oak Door pumpkin pie with vanilla soft cream.
For homebodies, this Buvette has got you covered. This Thanksgiving "box meal" includes starters, a main course and even their famous chocolate mousse and tarte tatin to finish off your meal. Reserve at least three days in advance and it'll be ready for delivery anytime from November 19 to 27, 2022.
If you'd prefer a buffet over a course meal, the Two Dogs Taproom Thanksgiving is definitely worth considering. Expect an extensive Thanksgiving food menu with roast turkey, homemade stuffing, mashed potatoes, three kinds of salad, a cheese platter and a generous dessert menu. This Thanksgiving menu also includes their Two Dogs Pale Ale, Brimmer Porter and Yebisu Lager among other drinks.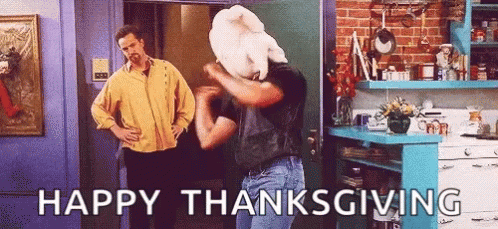 ---
---
---
Other Articles by The Savvy Team